Organizations
The SLOBC provides support for, works with and/or is a member of the following organizations. We join with these partners to advocate for bicyclists and a better community.
Bike SLO County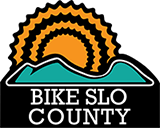 Mission: To transform San Luis Obispo County into a safer and more livable community by promoting cycling and walking for everyday transportation and recreation.
Vision: We envision the County of San Luis Obispo as a vibrant community with a vital economy; a community where walking, cycling, and convenient mass-transit make personal mobility safe, simple and fun. Central downtown areas would be designed for pedestrians and cyclists. Well-planned mixed-use neighborhoods would offer a balance of high and low-density housing with commercial resources nearby. Abundant open spaces would make easy access for all.
Bike SLO County
860 Pacific St., Suite 105
San Luis Obispo, CA
93401
Website: Bike SLO County
Bike Valet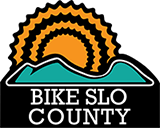 The Farmer's Market Valet is a weekly Bicycle Parking Service offered by Bike SLO County to the community. It operates from 6 to 9pm every Thursday on the corner of Morro and Higuera Streets. Park your bike for free, and volunteers will watch it for you while you enjoy the evening! Oh, and don't forget to sign up for a volunteer shift and become part of the bike valet family.
Website: Bike Valet
Central Coast Concerned Mountain Bikers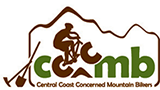 Mission: To expand the network of sustainable and enjoyable trails in SLO County and to maintain the trails currently in use. Since 1987 we have worked with California State Parks, National Forest Service, San Luis Obispo City and San Luis Obispo County in designing and building new trails and in maintaining existing ones. Our volunteers do approximately 2,000 hours of trail work – moving dirt – each year. We organize at least one trail workday per month. In addition, there are usually two major workdays each year called TRAILWERKS: all-day events with meals, tee shirts, and raffle prizes for participants.
Website: CCCMB
Other Organizations
These are other organizations of interest to the SLOBC and its members (each is a link to the organization's website).