Photographer: Chris Manning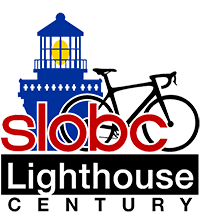 2023 Lighthouse Century
Date: September 30, 2023
Location: Morro Bay, California
The San Luis Obispo Bicycle Club invites you to the Lighthouse Century on the last Saturday of September. We offer relatively flat 75 mile and Metric Century (65 mile) routes along Highway 1 and a more difficult Century traveling east toward Paso Robles before returning to the coast. Experience scenic vistas and cool ocean breezes. Limited to 1000 riders, the event will likely fill before registration closes so register early to ensure your place in this classic ride.
What's New
Event Photos: We have partnered with Captivating Sports Photos to document the Lighthouse Century and make photos available to our riders.
Century Route: Our classic century route climbs up Old Creek Road to Hghway 46 and east to a rest stop at the Donati Winery before returning to the coast. This is a challenging route for strong experienced riders.
Relatively Flat Routes: The 65 and 75 mile routes along Highway 1 are well suited to beginning riders and those that want to focus on riding along the coast.

Photographer: Chris Manning
Lighthouse Routes
The RWGPS files which can be opened by everyone provide both plan and profile views of each route. Once opened, if you move your cursor along the profile, it will show the mileage, elevation and % grade at that point. The RWGPS maps include a link to send routes to a phone or other devices.
A Brief Description
The 65 and 75 mile routes follow historic Highway 1 from Morro Bay north through Cambria and San Simeon and on past the Elephant Seals and Piedras Blancas Lighthouse depending on which route you choose. Given the out and back nature of these routes, you can adjust the length of your ride to suit the day, weather and your enjoyment – there is always the option to turn around.
The Century route climbs up Old Creek and then turns east on Highway 46 to Donati Winery before returning west on Highway 46 to join Highway 1. The route has over 4000 feet of climbing in the first 28 miles followed by a long, fast and exposed descent. Once on Highway 1, the Century heads north with the other routes to the turnaround above Piedras Blancas Lighthouse.
Note: Both the 75 and 100 mile routes pass by the Piedras Blancas Lighthouse.

Photographer: Chris Manning
Lighthouse Highlights
Beautiful views of the ocean and coastal hills
65 and 75 mile routes are well suited to E-Bikes. Refer to E-Bike Rules & Information
Digital Maps & Cue Sheets
Rest Stops well stocked with good food
Robust SAG support
Bike Mechanic at Start and Rest Stops
Enthusiastic and friendly volunteers
Post-Ride Meal for all registered riders including:

Choice of omnivore or vegetarian meal
Dessert and drinks included

Post-Ride Meal tickets available at the meal for non-riders
Your registration fee supports our Donations to Bike SLO County, other local cycling organizations and programs as well as the communities and groups that support our rides.
Order custom Short Sleeve, Sleeveless and Long Sleeve Jerseys and Wind Vests in your size during early registration. Ordered items will be mailed to you before the event. Jerseys are made locally by Voler: Why American Made Matters.
Purchase custom Short Sleeve Jerseys and T-Shirts during Check-In while supplies last.
Short Sleeve Jerseys and T-Shirts from past events will be on sale during check-in.
Follow us on Instagram and use #lighthousecentury and #slobc to see images from other riders and share your posts.
Riders can purchase their event photos from Captivating Sports Photos after the event.
Lighthouse Safety
Approved helmets are required to be worn by all riders. NO HELMET, NO RIDE!
All minors must be accompanied by an adult
All riders are expected to follow Safe Cycling Best Practices
Rear-view mirrors to monitor overtaking vehicles and cyclists are encouraged. (California law requires that cyclists move right as practicable to allow vehicles to pass.)
Use the wide shoulders available on most roads
Portable audio devices using ear pieces are discouraged. (California law mandates that ear pieces be used in only one ear.)
The COVID Safety webpage identifies the components of a safe environment for both riders and volunteers.

Photographer: Chris Manning
Partners
These organizations and businesses partner with us to provide Volunteers, Places and Food, Supplies & Services to support the safety and enjoyment of our riders.
Volunteers: Great Volunteers are Critical
Places: Rest Stop Locations
Food, Supplies & Services