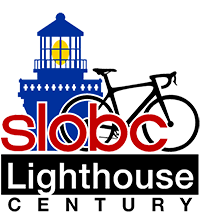 Lighthouse Century
Date: September 22, 2018
Location: Morro Bay, California
The Lighthouse Century offers three routes traveling along the coast past San Simeon with two longer routes climbing into the coastal hills. Scenic vistas of the central coast and cool ocean breezes make this a beautiful classic ride, so register early.

Photograph: Roger Heathcote
Lighthouse Century Routes

Photograph: Roger Heathcote
Lighthouse Century Highlights
Beautiful views of the ocean and coastal hills
Que & Map sheet
Rest Stops well stocked with good food
Robust SAG support
Bike Mechanic at Start and key rest stops
Enthusiastic and friendly volunteers
Post-Ride BBQ for all registered riders including:

Beef, chicken and vegetarian entre options
Linn's fruit pie for dessert
Tickets available at BBQ for non-riders

Ride patches and wristbands for registered riders
Your registration fee supports our Donations to Bike SLO County and other local cycling organizations and programs and the communities and groups that support our rides.
Opportunity to purchase Lighthouse Clothing.
Follow us on Instagram and use #lighthousecentury to share your ride posts
Event Photography by PhotoCrazy

Photograph: Roger Heathcote
Lighthouse Century Safety
Approved helmets are required to be worn by all riders. NO HELMET, NO RIDE!
All minors must be accompanied by an adult
All riders are expected to follow Safe Cycling Best Practices
Rear-view mirrors to monitor overtaking vehicles and cyclists are encouraged. (California law requires that cyclists move right as practicable to allow vehicles to pass.)
Use the wide shoulders available on most roads
Portable audio devices using ear pieces are discouraged. (California law mandates that ear pieces be used in only one ear.)
Partners, Suppliers & Vendors
These local organizations and businesses provide volunteers, rest stops locations, food, ride clothing, supplies and services to support the safety and enjoyment of our riders.